Help planning your wedding
Venue
St Andrew's can offer two venues for the service: the ancient (medieval) part of the church – intimate and atmospheric seating around 80; and the new extension – airy and uplifting, with space for around 200. If you haven't been to services before, do come along to see the church being used.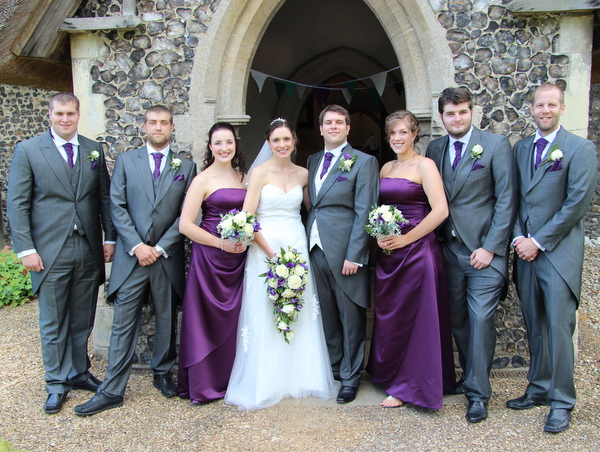 Sunday services are at the following times:
8 am Holy Communion
10 am Morning Worship (1st & 3rd Sundays)
Holy Communion (2nd, 4th & 5th Sundays)
3 pm 'Messy Church' (3rd Sundays, in the Church Hall)
(especially for families with young children)
6.30 pm Informal Evening Service (1st Sunday)
Booking
For preliminary arrangements about booking a time and date for your wedding, please contact the Parish Office at St Andrew's Church Hall where you can get the relevant forms and check that you are eligible to marry at St Andrew's Church. Your booking is not confirmed until a completed banns form has been received and you have written confirmation from the office.
Organist
Please contact the Director of Music at St Andrew's, Margaret Smith, about the music at least four months before your wedding: 01603 453010 or by email.
Wedding and rehearsal arrangements
We have a leaflet Help with the order of service for your wedding which sets out the complete running order for you and another Specimen wedding service which can be used to design your own printed service sheet.
Please contact the office about three or four weeks before the big day to check who is officiating at your wedding and when the rehearsal is, if you do not already know. The minister will normally contact you to confirm the date and time of any meetings and rehearsals – but please see below under Marriage Preparation. The rehearsal is normally at 7.30 p.m. in church on the Thursday before the wedding, but this needs to be confirmed with the minister taking the wedding.
Flowers
We can offer an exceptional service in this area. Please contact Jenny Whitehouse (tel: 01603 455386), our lead flower arranger as soon as possible. It would be greatly appreciated if the flowers in the church could be left for the following Sunday services after your wedding.
Car parking
There is some parking available around the church hall. Alternatively, Waitrose car park may also be used, but note the restrictions on length of stay. Please do stress to your guests that they should not block the road, nor any houses near the church.
Marriage preparation
Your wedding is only the first day of your married life, and we want to make sure that you are as prepared as you can be for all that will follow! So we'll be arranging at least two meetings with the minister who is taking your wedding. The first is usually to discuss general issues about getting married; the last meeting is a rehearsal which takes place at St Andrew's. It is usually on the Thursday immediately before the wedding at 7.30 p.m. We usually also offer single day courses called Loving for Life in February and March about making your marriage last. Again, the minister taking your wedding will be able to give you all the information about these courses.
Photographs, video and recordings
We do not allow photography by the congregation during the wedding service, except discretely by your professional photographer without flash, but guests are welcome to take pictures immediately after the service, as the bride and groom process down the aisle. If you wish to video or record the service, please discuss this with us.
Reading the Banns
Your banns will normally be read at the 10 a.m. service at St Andrew's two full months prior to your wedding date, on the first three Sundays of the month (e.g. on the first three Sundays of June if wedding is in August, on the first three Sundays in July if it is in September).
If you have preferred dates for the reading of your banns please advise the parish administrator. These dates should preferably be on consecutive Sundays, should not be longer than three months before the wedding, and normally at least six weeks before the wedding.
Please note that if either or both of you live in another parish, you will also have to arrange for your banns to be called at the church there. The banns certificate, in order to show the banns have been called, should be sent to us as soon as you receive it. If you are uncertain regarding any aspect of the banns process please contact the Parish Administrator.
Note: Our Parish Administrator, Lynn Glover, will normally contact you three months before your wedding date regarding the completion of a Banns of Marriage Application. Queries can be addressed to her via the Parish Office: 41 Church Lane, Norwich NR4 6NW 01603 473646 or by email.
Fees
Fees include statutory charges and optional extras you may choose.